How can Nold work in your Airbnb space?
Nold Open can be used with most electric door locks to make them smarter. If you are renting out your whole house, Nold can provide easy access to your garage door or entry gate too, without the need to give your guests a remote control. For apartment buildings, the normal code-based intercom system can be hooked up with Nold, so you don't have to give the same entry code for each guest. For your actual entry door, you could use an electric, motorized lock that can be mounted on the inside of your door, while still providing key access on the outside.

We recommend using Nold as an extension for your current locking solution, so your guest still have a backup solution to get into your space(for example, if your guest doesn't have a smartphone). Once you have Nold installed in your property, this is how you can setup the automation:
What you need
You need be on the Premium plan of Nold Cloud
Make sure you have a Google / Gmail account
And lastly, you need a free Zapier account with the Nold Cloud app enabled. To do this, sign in to Nold Cloud, click on the Integrations menu and select Zapier to create or connect your account
Find your Airbnb calendar
Airbnb has a calendar for each of your property and create events based on your bookings with details about the person that made the booking. We are going to use this calendar to setup the automation using Zapier. So, first things first, follow these instructions to get your Airbnb calendar:
Sign in to your Airbnb hosting dashboard. Select the Calendar main menu and the Availability settings submenu.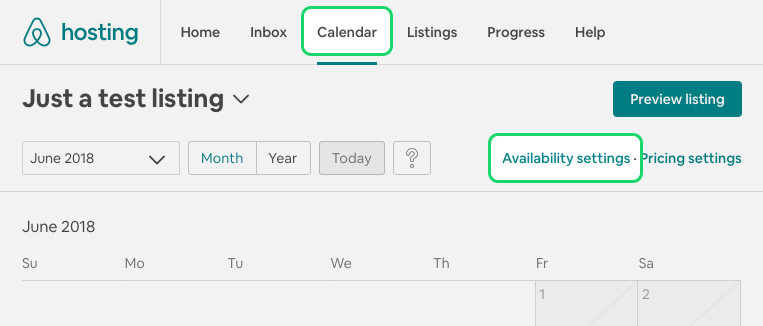 Scroll down to the Sync Calendars section and click on Export Calendar to get an iCal URL that can be used with any popular calendar app.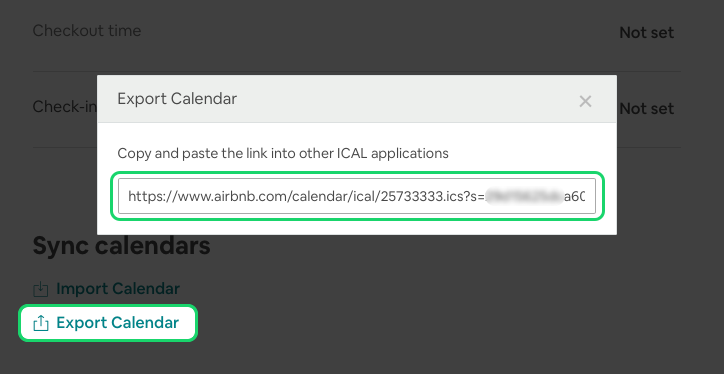 Create a new Google Calendar
We are going to use Google Calendar as a proxy for our integration. First, sign in and create a new calendar with the + button and select the From URL option.

Paste your calendar URL that you got from Airbnb and click Add Calendar. The calendar will appear on the left side under Settings for other calendars. You can click on the newly created item to rename it to a more user friendly name, but this step is optional.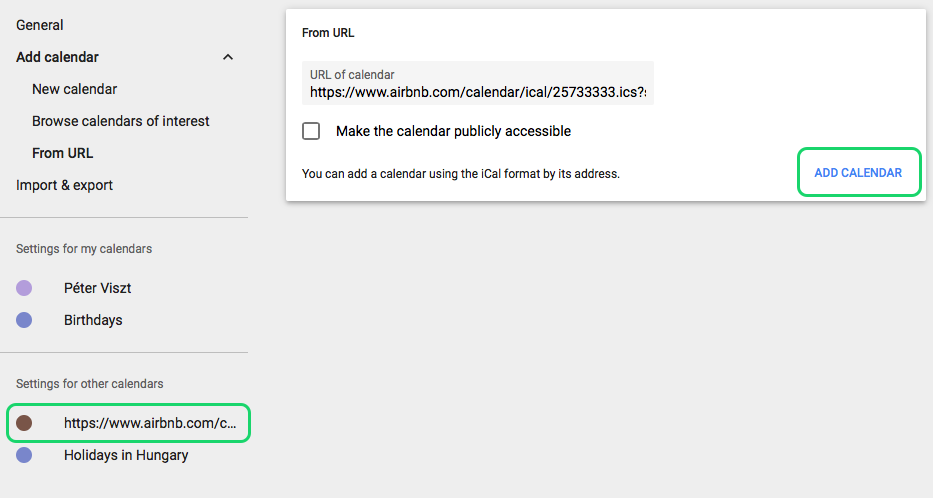 Setup the automation with Zapier
Next step is to connect this calendar with Nold Cloud, so on every new event, a key will be shared automatically with the guest. Sign in to Zapier and create a new Zap.
For the trigger, search for Google Calendar and select the New Event Matching Search trigger. On the next step, you'll be asked to connect your Google account with Zapier, so it can pull data from your newly created calendar. On the Edit Options step, select your calendar we created and for the search term, add CHECKIN. With this keyword, we can look for events in the calendar created by Airbnb with booking informations(the word Checkin is in the event description).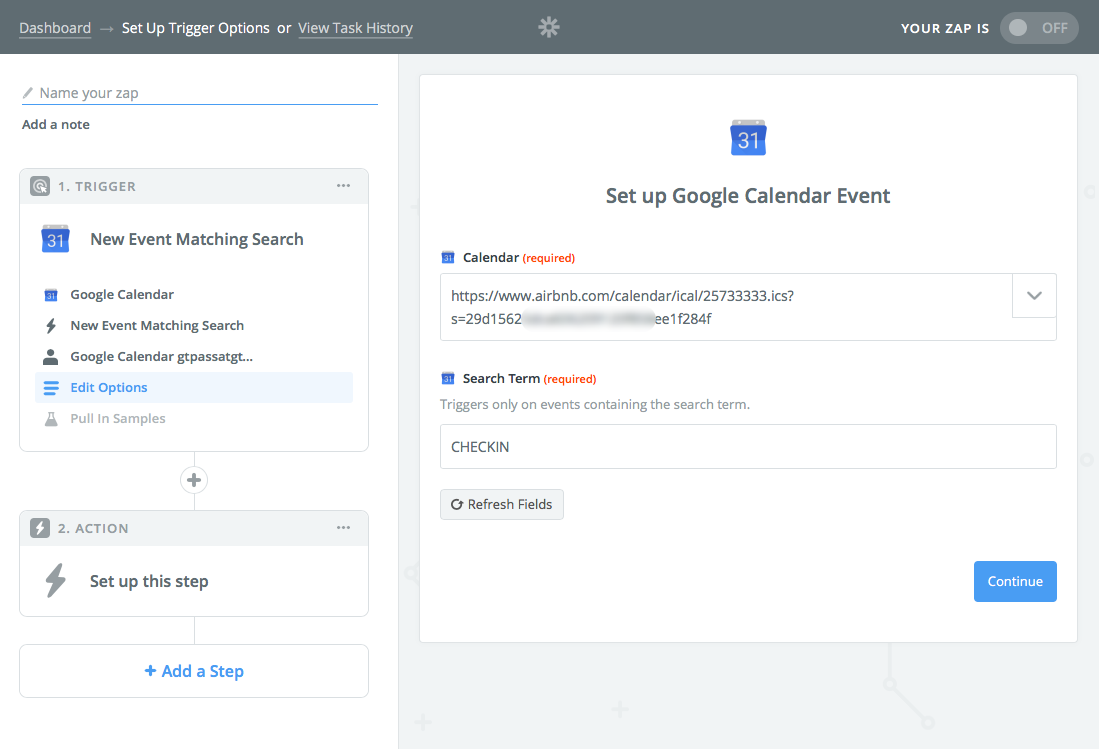 And important note is that you can only move forward from this step if you have at least one event in your calendar.
Now we can setup Nold to actually send you the invite to the guest automatically. Select Nold Cloud(beta) and choose the Invite Guest action. The same way you selected Google Calendar in the previous step, you'll be asked to connect your Nold account with Zapier.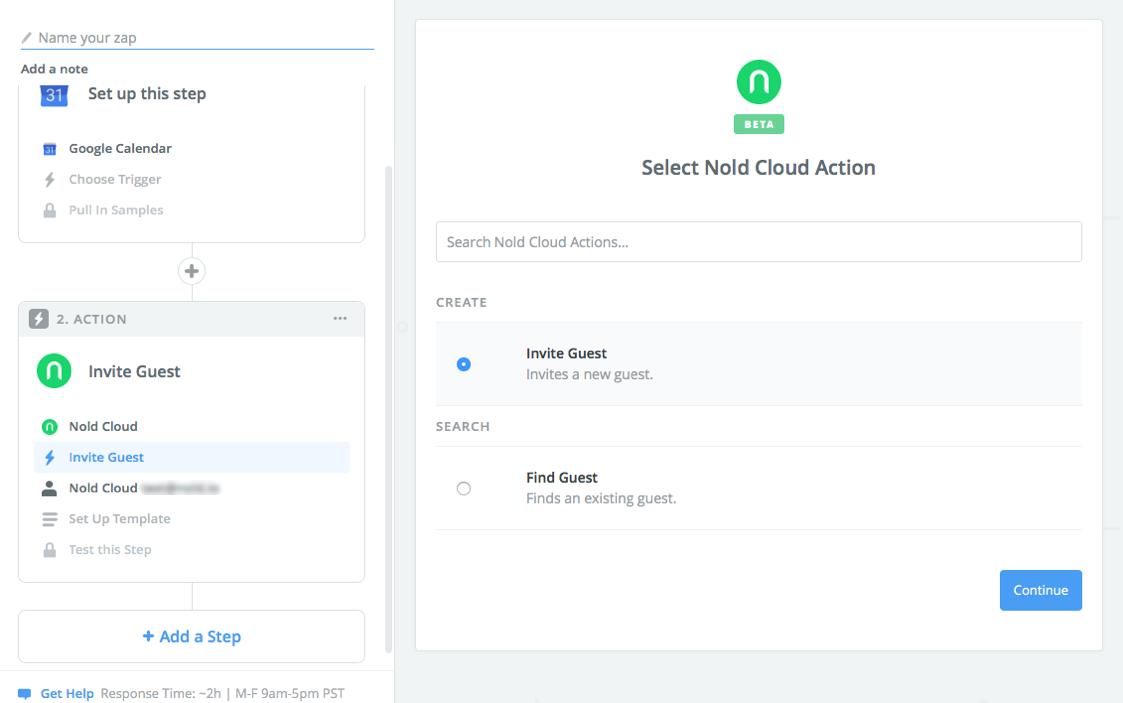 On the Set Up Template step, you need to fill out the form based on the event data Zapier found in your calendar. The Device field is populated automatically based on your master keys, so you can preselect that first(you can select multiple devices). For the guest name, i suggest using the title of the event, which looks like this: Jane Doe(XXXXZZZZ). This will be only visible to you when you sign in the Nold Cloud dashboard, so you can quickly identify based on the booking number which guest are you seeing.

For the guest email address and phone number, simply select the event description field. As you can see, this contains more info not just the raw email address, but Nold is clever and will automatically filter out the relevant information for you.

Lastly, the Available From and Available To field can set the date limits for your virtual keys, so it will expire automatically once the booking has been ended. You can set the Start and End date based on the event that Airbnb created in the calendar.

And thats it. Activate your Zap and your guest will receive the key automatically when a new booking has been made and the guest will appear in your Nold Cloud dashboard too.
Tips to personalize the guest experience
The guest will receive an invitation email to accept the key and if the phone number is provided, an SMS message too. You can customize both of these messages in Nold Cloud for each of your master keys to include important informations about the place, like the address, how to get in etc…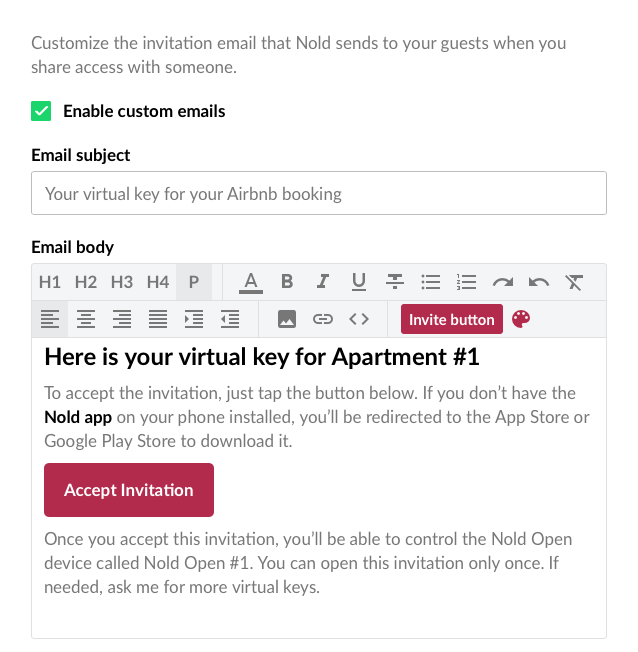 You can also customize the look of the Nold application on the phone. You can setup a background image and add custom description at the top with relevant information, like the apartments wifi password or your phone number to call if somethings wrong. To do this, go into device settings and choose the Key branding option.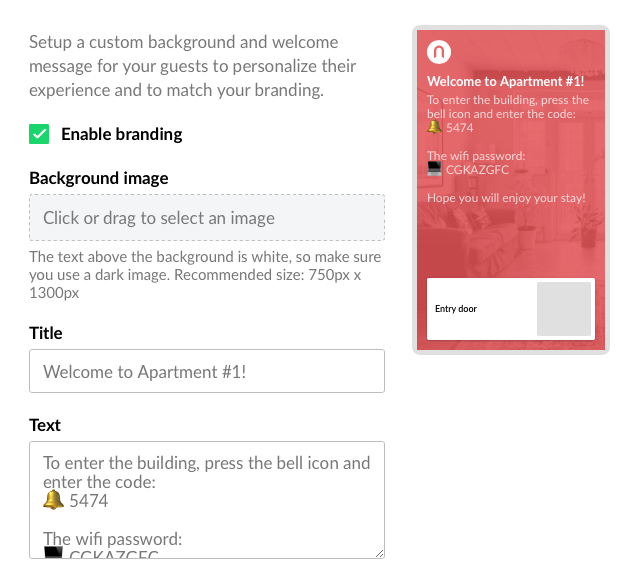 Benefits offered by this key exchange automation
With the user-friendly interface provided by Nold Cloud, everything is conveniently located in one single place even if you have multiple apartments, properties.
Hosts will be able to increase their productivity (and profits too).
With the activity feed feature, you can monitor and get notified when the guest checks in or checks out, so for example the cleaning process can operate much more smoothly. With the reports feature, you can visualize the key usage of your apartment and make business decisions based on it.
It is not only the hosts who will benefit from the service offered by Nold. The guests also find their service to be much more pleasant and relaxing, as they don't have to remember key codes and carry keys with them and self-checkin is easy to do. This ensure that the guests' holiday starts on a high note instead of them having to wait around aimlessly.