Zapier makes it easy to connect two(or more) apps together, without any programming involvement. You can, basically, automate all your workflow by yourself.
This means that the 500+ tools that Zapier integrates with are now available to you to integrate with Nold, tools like Google Calendar, BookingSync, Slack and more.

How does it work?
What's great about our new integration (and Zapier itself) is that it is incredibly easy to get set up. First, request an invite from us by sending an email to help@nold.io. Our app is not published yet on Zapier, but we can provide access manually to anyone. Once you accept the invitation, Zapier will ask you to link your Nold account with them.
Once you are set up, you can start creating your own 'zaps' (connections between Nold and other third-party apps).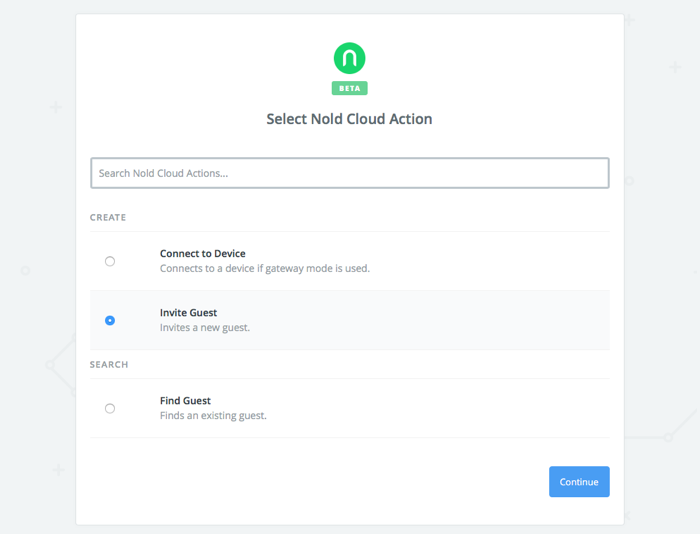 We support the following triggers and actions:
New Activity - Triggers when something happens related to a guest: guest added, deleted or edited. And of course, when the guest accepts an invitation, or when the access is revoked.
New Device - Triggers when a new device (or relay) is activated in your Nold account.
Invite Guest - This action can be used to share access with people.
Some examples
Google Calendar
Many Airbnb or vacation rental owners use Google Calendar to sync their bookings. Now, with Zapier, you can automatically share access with a guest that has been added to your calendar, even set up the start and expiration times automatically.
BookingSync
BookingSync is another popular tool for rental owners. This tool helps you integrate all of your listings from multiple websites(like Bookings.com, TripAdvisor, Airbnb and more) into a single place. When a new booking has been made, BookingSync can notify Zapier, which you can connect with the Invite Guest action provided by Nold to share access with the guest automatically.
Zoho People
Zoho People is an HR tool to manage your workforce. If you are running an office with Nold as an access control solution, you can share access with your employees automatically, when you add them to your database.
Don't let those ideas limit you, however! There are so many other apps that can be integrated with Zapier, giving you countless options for new campaigns you can create.
As always, let us know if there are any other features you'd love to see by sending us an email or commenting below!